Structural requirements and Test Procedures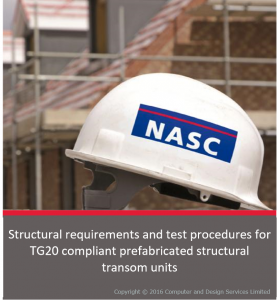 Prefabricated transom units consist of scaffold tubes with couplers permanently attached at both ends by welding in the manufacturer's fabrication shop. They are available in a limited range of fixed lengths to accommodate the required number of scaffold boards and toe boards between the standards. There are two main types:
• Intermediate board transoms usually fitted with telescopic extension pieces to optionally support boards placed between the inner standards and the building façade. This type are sometimes directly substituted for the traditional board transoms which are usually attached to the ledgers with putlog couplers. They are not credited with special structural properties and therefore are not considered further in this document.
• Structural transom units fitted with special couplers so as to connect in-line directly to the supporting standards and also to support the inner and outer ledgers at right angles to the transom. These structural transoms are the subject of this document.
The main advantages of prefabricated structural transom units (PSTs) may be listed as follows:
• The fixed length and semi-rigid end connections facilitate efficient setting out and self alignment thereby saving labour.
• A reduced number of site fixings saves labour
• The partially fixed connections to the standards permit ledger bracing to be omitted from scaffolds in certain conditions thereby allowing unobstructed walk-through access on all lifts.
The principal feature of prefabricated structural transom units is the integral couplers attached to both ends. These couplers are fundamentally different from other scaffold couplers used in tube-and-fitting scaffolds because they join three tubes rather than two. Also the connection between the transom and the standard is concentric rather than offset. These differences mean that the structural properties of connectivity, strength and stiffness need to be established and taken into account in structural design or at least in the structural analysis behind any `standard' or `compliant' designs for scaffolds utilising prefabricated structural transom units. The current BS and EN product and testing standards for scaffold couplers1, 2, 3. do not cover prefabricated transom unit couplers so the NASC has developed this product and testing standard as far as possible consistently with the relevant existing standards. The objective is to ensure that PST products used by the industry have coupler strengths and stiffness's which are sufficient to justify the structural calculations on which the TG20:13 eGuide is based.
Download full details here